Overview
The LSM program provides students with a strong foundation in both the biological sciences and management with a view to preparing them to make significant contributions to the realization of innovations in the life sciences sector. Students in the program can expect to complete two degrees in four years, a BA in a life sciences major through the College of Arts & Sciences, and a BSE in management through the Wharton business school. A watchword of the program is learning by doing. Students learn to apply and integrate the knowledge and skills they gain through direct practical experience both within and beyond the classroom. This they do by joining a supportive community of students, alumni, and senior professionals all of whom are interested and invested in the transformative potential of the biosciences when implemented shrewdly.
Although there is no single profile or set of interests that we're looking for, the program does have an emphasis on medicine and healthcare. If your interests are not in any way related to medicine or healthcare, then the LSM program may not be a good fit for you. If your interests do lie within healthcare, any subfield is of potential interest to us. Note that you don't have to commit to a single area right now – one of the goals of the program is to help you explore the many possibilities within the life sciences industry – but it can be helpful to us to learn about your current interests.
Curriculum
When it is time to declare a College major LSM students may choose any life sciences discipline. Typically that means Biology (General Biology or any concentration within Biology), Neuroscience, Biochemistry, or Chemistry. Any other major requires permission; for example, some students have in the past done Biophysics. Interdisciplinary majors such as Cognitive Science and Environmental Studies though fascinating majors are not permitted as College majors for LSM, which requires a greater emphasis in science at the molecular level.
LSM students may choose any concentration in Wharton.
LSM students are expected to complete two degrees in four years. The minimum number of course unit credits required to graduate with both degrees is 43; in practice, students do more than that. It's demanding, but students manage it, while also finding time to engage in a variety of extracurricular activities.
Sample First-year Curriculum:
This is just one example among a variety of possible paths, but it is pretty representative of what our first-years usually take.
First-year Fall Semester

First-year Spring Semester

LSMP 1210 (Proseminar in Life Sciences and Management)

WRIT [0000 to 9999] (Writing Seminar)

 

BIOL 1121 (Introduction to Biology – the Molecular Biology of Life)

CHEM 1012 (General Chemistry I)

 

BIOL 1123 (Introductory Molecular Biology Laboratory)

CHEM 1101 (General Chemistry Lab I)

 

BEPP 1000 (Introductory Economics for Business Students)

BIOL 2210 (Molecular Biology and Genetics)

 

MATH 1400 (Calculus, Part I)

OIDD 1010 (An Introduction to Operations, Information, and Decisions)

WH 1010 (Business and You: Exploring Business Pathways and Developing your Potential)

LGST 1000 (Ethics and Social Responsibility)
[Those who have tested out of MATH, and/or waived out of ECON, might take e.g., a Writing Seminar, or a language class, or Statistics, or a Wharton Social Values (usually legal studies) course, or satisfy a general education requirement with a First-Year Seminar.]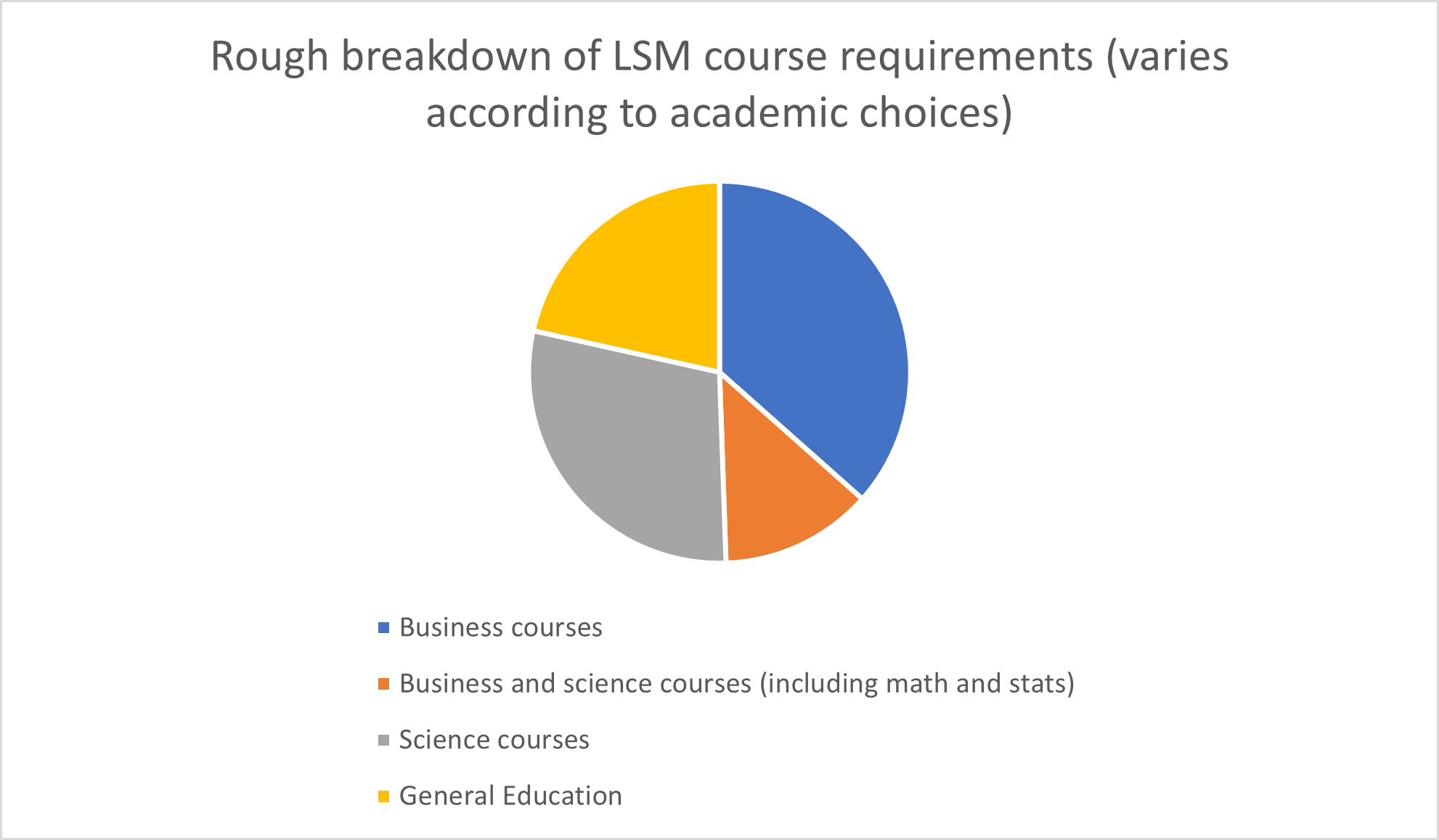 Internships
In addition to course requirements, LSM students complete two required summer internships, at the end of the sophomore and junior years, one in scientific research (in an academic, governmental, or private-sector context), the other in business or policy (often in financial advisory, investing, in business roles in the life sciences industry, or in policy research or practice or non-profit work). Students can expect to be paid or otherwise funded for these internships. There is no required internship for the summer after the first year, but students can apply for funding for research.
Suggestions for Applicants
Consider these tips for writing your application essays:
Spend time explaining your interests and how learning about life sciences and management concurrently will help to develop them. Bear in mind, that we already know what our program offers, so avoid spending too much time describing each feature of our program. Instead, focus on the specific aspects of our program that most interest you.

Don't be afraid to get into specifics about your academic interests. Whether it's a particular area of science or its application, we'd like to hear your thoughts about it.  

We are less interested in how polished your essay is, than what you have to say about yourself. Make your essay authentically your own by explaining what excites you and where you might like to take an LSM education.

We will see all your essays in your application, not just the LSM essay, so make sure your essays are not overly repetitive.