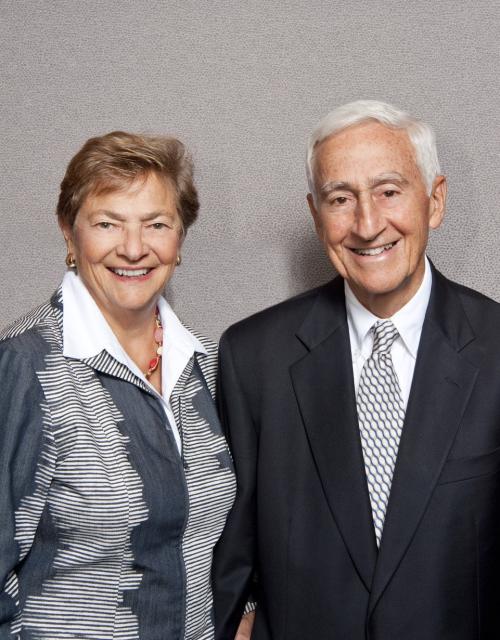 Roy and Diana Vagelos generously established a fund in 2013 for two prizes annually to honor seniors graduating from the LSM program. One prize is awarded for the greatest achievement in scientific research by a graduating LSM senior. The other prize is awarded for an outstanding graduating LSM senior who plans to go on to graduate study.
Recipients: 
Amy (Yuwei) Guo: Vagelos Graduate Study Prize
Amy has found a variety of ways of following her passion for translating emerging scientific innovations into technologies with clinical benefits for patients. She has pursued her research with enthusiasm, has demonstrated her potential as an entrepreneur, has been a major contributor to healthcare-industry-focused groups on campus, and has shared her passion for the life sciences with West Philadelphia high school students in her capacity as a founding Student Coordinator with the LSM track in the Educational Pipeline Program.
At the same time as completing her Bachelor's degrees in Biochemistry and in Finance, Amy completed the courses required for a Master's in Chemistry, and hopes eventually to do a Ph.D. Her research at Penn has been with Dr. Henry Daniell of Penn Dental Medicine, where she contributed to the development of anti-viral chewing gums, one of which may prove suitable for curbing SARS-Cov-2 infections. Some of the methodology underlying this technology was submitted as an IND to FDA and published as a Biomaterials paper on which Amy was one of the co-authors.  Throughout her time at Penn, Amy has exemplified LSM's emphasis on both scientific investigation and its implemenation through multiple entrepreneurial ventures, achieving some success in the process in collegiate pitch competitions and in attracting attention from venture capital. In her first year, Amy co-founded TemPower, which developed a self-sustaining vaccine carrier intended for off-grid vaccine transportation in underpowered areas, and in her senior year, she together with another LSM student co-founded FullFlock, yet another application of anti-viral protein research this time directed toward the development of a chicken feed for curbing avian flu transmission. Following graduation, Amy will be joining PJT Partners as an Investment Banking Analyst where she will be deploying her skills and knowledge, while at the same time learning more about the biotech industry.
Shivani Nellore: Vagelos Graduate Study Prize
Shivani is going on to the Cleveland Clinic Lerner College of Medicine immediately following her graduation. She has prepared herself admirably for that program with an extraordinary depth and breadth of experience centered primarily on working to help patients with cancer. She has put her scientific acumen and the knowledge she has gained through her studies in molecular and cell biology to work in research through internships at National Cancer Institute and the MD Anderson Cancer Center as well as in the extensive research she has been conducting here at Penn in the Shaffer Lab. For her business internship, Shivani learned about the hospital management side of cancer care through work at the Lifespan Cancer Institute in Rhode Island. And she has long been volunteering with Project Stella, which has the goal of bringing technology needed to provide radiation treatments to Africa in order to help underserved patients there. Shivani's service has also included helping underserved youth locally through her role as Vice President of Science Olympiad at Penn, and as one of the founding Student Coordinators who developed and taught an LSM-based curriculum to West Philadelphia high school students with the LSM Pipeline program. She also acted on her desire to help people directly during the lockdown phase of the COVID-19 pandemic through working as a certified pharmacy technician at CVS near her home. She's a remarkably capable and caring individual with a great deal of promise as a physician, researcher, and leader.
Brent Perlman: Vagelos Research Prize
During his first year at Penn, Brent took a Biology course in which he learned about epigenetics and systems biology, and he has skillfully and energetically followed his passion for the field ever since. He spent a great deal of his final three years at Penn in the lab of Dr. Robert Babak Faryabi, where he used both experimental and computational approaches to study the epigenetic landscape of drug-resistant hematological malignancies. Brent designed and validated a novel program to help analyze massive datasets to identify epigenetic features of functional significance, and applying it to several models of drug-sensitive and drug-resistant Notch-addicted cancer, identified or confirmed various factors in oncogenesis and acquired drug resistance. This work may ultimately aid in the identification of novel drug targets to help these patients. Brent was awarded the prize for best poster presenter at the 2023 Penn Epigenetics Retreat, and is currently submitting a manuscript for publication.
Beyond his research, Brent helped foster community in LSM through his role with the LSM Student Advisory Board, and across campus too created community especially for LGBTQ+ students through his work as President of Wharton Alliance. Following graduation, Brent will work with Boston Consulting Group as an Associate focused on the biopharmaceutical industry, and he hopes to go on to a Ph.D. in the near future.
Henry (Hoang) Le: Vagelos Research Prize
Henry, who entered LSM as a QuestBridge scholar, has had a passion for research since before he arrived at Penn, and he did not allow pandemic restrictions on laboratory work to get in his way. He found a way to contribute significantly through pursuing computational as well as experimental "wet lab" methods; in his classes, he somehow managed to concentrate in Computational Biology at the same time as getting a good grounding in molecular biology (not to mention Health Care Management and Policy). His research focus has been largely on CRISPR-Cas9 and functional genomics, areas he pursued not only in the lab of Dr. Ophir Shalem at Penn, but also with the Sternberg Lab at Columbia, as well as at Mammoth Biosciences for one of his summer internships. Henry, motivated not only by the prospect of translating scientific innovations into diagnostics or therapies, but also by love of the scientific questions themselves, was delighted to help investigate and rethink the evolution of Cas9 and its tracrRNA. He also, with Dr. Shalem, was excited to help develop a more robust and efficient way to perform pooled genetic screening, with potential benefits for diagnostics.
Henry shared his love of science, and skills in implementing scientific advances, through working on the team that won the Y-Prize, serving as Editor-in-Chief of the undergraduate healthcare journal Synapse, and as one of the founding Student Coordinators of the LSM Educational Pipeline Project, with which he helped develop and then teach an LSM-based curriculum to students in local West Philadelphia high school students who are interested in science. At the College Commencement ceremony, Henry made us all proud through delivering an inspirational address. He now intends to return to Columbia to continue his research, and then go on to a Ph.D. program.
Vagelos Prize for Graduating Senior Planning Graduate Study: Sreyans Tanga
Though he's first making use of his business acumen as a consultant with McKinsey, Sreyans (Yash) Tanga wants at some point to expand his skills and knowledge, and his ability to help others, by attending medical school. Yash found a variety of ways of using and building his abilities while here at Penn. In his first year, he joined the Penn Undergraduate Biotechnology Society and developed a marketing strategy for a novel 3D imaging technology that used nanoparticles to study dense breast tissue. He was also selected to lead a market entry strategy project for a company that has a New Molecular Entity for Alcohol Use Disorder. Similarly, Yash spent time as an Analyst in the Wharton Investment and Trading Group (Healthcare Group). Keen also to deepen his scientific knowledge beyond the classroom, and to contribute to the best of his ability to progress in combating disease, Yash conducted research in Dr. Celeste Simon's lab at the Abramson Cancer Institute investigating the proliferation of liver cancer cells by modulating the FBP1 gene. In his research he found that the liver cancer cell growth was limited after rescuing FBP1 gene expression using a viral vector. For his science internship, Yash found an opportunity to work on the AllOfUs project at NIH, looking to support and improve the diverse database of patient information. For his business internship, Yash worked at ClearView Healthcare Partners, helping with a firm's clinical development strategy and analyzing a broad swathe of therapeutic areas.
Vagelos Prize for Achievement in Scientific Research: Pallavi Menon
Pallavi Menon has been a very involved, kind and thoughtful leader in the LSM community and beyond ever since she joined us as an internal transfer. From her first year, Pallavi worked in Dr. William Peranteau's lab, collaborating there with Dr. Sourav Bose (LSM '11) and Dr. Apeksha Dave. She investigated in utero gene editing and in utero hematopoietic stem cell transplantation in the murine and canine model. More specifically, she worked on gene editing projects in Mucopolysaccharidosis Type I (MPS-IH, Hurler syndrome), a lysosomal storage disease associated with significant morbidity and early mortality in affected children, and Epidermolysis Bullosa, a skin disease. Her work pertained to testing and understanding adenine base editing to correct the disease-causing mutation therapeutically. Not only did Pallavi graduate with two bachelor's degrees, she also obtained a master's in Biology through her extensive research experience in the lab. Beyond the lab, Pallavi founded and was Co-President of UPenn's chapter of Isla Urbana, an NGO based in Mexico that works to install rainwater harvesting systems in rural Mexico. Pallavi also served as the Co-President and South Asia Ambassador for Wharton and the World Bank: Ideas for Action. In this role she worked with The World Bank, The Zicklin Center at Wharton, Legal Studies 230 students and Ideas for Action members to organize and implement global initiatives: Annual Ideas for Action Competition, SDGs and HER, and Ideas for Action Indonesia. In what little free time she had remaining, Pallavi was also a Certified Les Mills BodyCombat Group Fitness Instructor, teaching high-energy martial arts-inspired group workouts at Pottruck.
Vagelos Prize for Achievement in Scientific Research: Kartik Devashish
Kartik completed his senior thesis with Penn's Center for Cellular Immunotherapies, first in the lab of Dr. Jan Joseph Melenhorst and then with Dr. Aimee Payne, studying the role of CD4 and CD8 T cell subsets in CA(A)R T cells. Earlier, even when the COVID-19 pandemic made it impossible for him to return to the lab, Kartik had managed to make research contributions in other ways while at Penn, contributing to the Bartoli Research Group at the Children's Hospital of Philadelphia through creating a predictive model for patient outcomes through biomarkers in mechanical, circulatory support (MCS) patients, and contributing statistical and data analyses to various industry partner companies developing MCS devices. He also did his science internship with the NIH's AllOfUs program, actually contributing to the effort to combat COVID-19 through his analytical scan across studies of the disease, and also his review of studies of vaccines in development at that time. Kartik's business internship he did with Evercore Partners, where he has returned following graduation as an Investment Banking Analyst working in the healthcare sector. That work builds on other extra-curricular experiences he gained at Penn while also gaining degrees in business and biochemistry: he was involved with the Wharton Investment and Trading Group as a healthcare analyst, was an Associate Consultant to non-profits with 180 Degrees Consulting, and he spent a winter break interning with IvyCap Ventures with a healthcare portfolio firm in Mumbai, India. Kartik also contributed to cultural life here on campus in his role as Treasurer with the Penn Hindu & Jain Association.
Vagelos Prize for Graduating Senior Planning Graduate Study: Yiwen Li 
Yiwen intends to pursue a PhD in the biomedical sciences, and at Penn he spent three years working in the laboratory of Dr. Roger Greenberg at the Abramson Family Cancer Research Institute, Perelman School of Medicine, focusing on the mechanisms of DNA repair and its implications for cancer etiology. He has published on telomere length maintenance mechanisms in cancer, and on the role played by chromatin-remodeling enzymes in PARP inhibitor sensitivity in BRCA-mutant cells. Immediately following graduation, however, Yiwen is working on the startup he co-founded, Mobility, for which he and his partner were awarded Penn's prestigious President's Innovation Prize. For some time Yiwen had thought about the problem of providing access to healthcare for patients in underserved, particularly rural areas globally, and this company provides software that enables healthcare clinics to seamlessly coordinate at-home primary health deliveries. In response to changing and escalating needs in the pandemic, the company worked on extending the network so as to be able to deliver a wide range of necessities, not just medicines, to these under-resourced communities with a contactless delivery option. Yiwen and his partner were able to get Mobility up and running in part through a Wharton Social Impact Research Experience grant, which allowed them to do research in South Africa one summer. Yiwen also helped facilitate expeditions around the world through his involvement with Wharton Leadership Ventures and put his leadership skills to work as a VP with the Wharton Undergraduate Healthcare Club. It was through an internship at Morgan Stanley that Yiwen learned more about the healthcare industry.
Vagelos Prize for Graduating Senior Planning Graduate Study: Cecilia Wang 
Thanks to the Schwarzman Scholarship she was awarded, Cecilia will be studying towards a Master's in Global Affairs at Tsinghua University, before going on to further advanced study. Cecilia has pursued her interest in global health, in a variety of ways, from the outset of her Penn career. The summer after her first year, she earned an opportunity through what was then the Wharton Global Research Internship Program to conduct health care management projects in Nairobi, Kenya; in the following summer she learned about the early stages of epidemiological research with Dr. Sheri Schully of the All of Us Research Program at NIH. And with the advent of the COVID-19 pandemic, she sprang into action on a number of fronts. She served as Outreach Director for the medical translation team with Zhuoming COVID-19 Info Aid, facilitating translation and the transfer of medical knowledge from Chinese medical journals to English-speaking institutions. Under the supervision of Dr. Stephen Sammut, she and a fellow LSM student worked on an analysis of the repercussions of the pandemic on non-COVID sectors in China. And with Wharton Research Scholars, under the supervision of Dr. Mark Pauly, she wrote a comparative analysis of COVID responses in Asia. Before and after graduation, Cecilia worked with Clover Biopharmaceuticals, a biotech company based in Chengdu, China led by LSM alumnus Joshua Liang, assisting with both their clinical development of a COVID vaccine and also their corporate strategy. While at Penn, Cecilia further demonstrated her leadership abilities as President of the Wharton China Association, expanding the club dramatically and spearheading several large cultural and professional events.
Vagelos Prize for Achievement in Scientific Research: Kirti Nath 
Kirti enjoyed her three years conducting research in the laboratory of Dr. Christoph Thaiss, of the Penn Institute for Immunology, in part because of the interdisciplinary nature of the work, and in part because of the significant responsibilities she was able assume as one of the earlier members of the group. Dr. Thaiss' research focuses on the interactions between metabolism, immunology, and the microbiome. Kirti played a key role in two projects, one working on immune modulators of metabolism, and the other developing a clinical cohort related to the microbiome and metabolism. Working across disciplines is enormously exciting to Kirti, and her goal is to become a clinician-researcher committed to such interdisciplinary biomedical research. Joining the Harvard-MIT Program in Health Sciences & Technology for her medical training, she has taken the first step toward fulfilling this goal. Previously, Kirti benefited from experience in her first year with the Granato laboratory in Penn's Department of Developmental and Cell Biology, and as a summer intern at Memorial Sloan Kettering Cancer Center, working with Dr. David Solit in the Human Oncology and Pathogenesis Program on the genetic progression of epigenetic modifications associated with bladder cancer.  Given that scientific research is Kirti's first love, it is perhaps not surprising that her business internship was one in which she served as a liaison between the R&D and business teams of the cancer therapy company Oncoceutics, helping to communicate scientific findings and clinical trial results.
 Throughout her time at Penn, Kirti worked tirelessly to do her part in making sure that as many young people as possible have access to development programs in science, particularly women and other populations underrepresented in STEM. Through the student-run Science Olympiad organization, an organization which she herself had competed in before coming to Penn, she coached a team at an all-girl high school in North Philadelphia to allow other students to benefit from the early exposure to interesting science that she regards as integral to developing passion. As Chair for the CURF Student Advisory Board she helped organize an annual Research and Fellowships week and develop opportunities for Penn students to get involved in research across campus. And as Chair of the LSM Student Advisory Board, she advocated ably for students and established new means for encouraging and sharing student research. Among other things, she served as Associate Editor for the undergraduate healthcare journal Synapse, regularly writing and editing articles, while also acting on her inclination toward service and helping patients directly by serving as a volunteer at the Hospital of the University of Pennsylvania, the Penn Kidney Disease Screening and Awareness Program, and before that, a rehabilitation center near her home.
Vagelos Prize for Achievement in Scientific Research: Mary Lin
Mary arrived at Penn with a particular interest in oncology and has pursued it enthusiastically in a variety of interesting ways. In her first year, she worked in clinical research with Dr. John Lukens of Penn's Department of Radiation Oncology, conducting statistical analyses related to head and neck cancer patients who were candidates for radiation and immunotherapy. Thereafter she became especially interested in CAR T cell therapy, which resulted in a summer internship at Allogene Therapeutics, a company working to develop allogeneic CAR T cells, rather than modifying the patients' own cells. It was this work that inspired Mary to get involved with two independent studies research projects within Penn's Center for Cellular Immunotherapies. In the first project, under the supervision of Dr. Yi Fan, she employed single-cell RNA sequencing to examine gene expression levels associated with the fabrication of hyaluronan, a high molecular mass polysaccharide found in the extracellular matrix of the glioblastoma tumor microenvironment; work that has potential applications in the development of targeted hyaluronan-degrading CAR T therapies for the treatment of this cancer. In the second project in Dr. Jos Melenhorst's groups her efforts were directed at two objectives, one exploring the immunobiology of the chronic lymphocytic leukemia microenvironment through the phenotypic analysis of the tumor cells themselves and infiltrating T-cells, the other assessing the memory phenotype and function of CAR T cells with STAT3 gain-of-function mutations.
This is not to say that Mary's interests have solely been focused on research because she has also served on the leadership teams of the undergraduate healthcare journal Synapse and Collctve (a national network of college creatives), while also serving her fellow students in her capacity as an advisory board member for both the Biology Department and Wharton Communications. And at a humanitarian level she has invested a considerable amount of her spare time to helping cancer patients and their families directly through volunteering at Camp Kesem for children whose parents have been diagnosed with cancer and at Penn Presbyterian Hospital. Following graduation, Mary has returned to the management consulting firm with whom she did her business internship, Boston Consulting Group, where she aims to apply and build on the knowledge and skills she gained from research in her consulting work.
Vagelos Prize for Achievement in Scientific Research: Kevin Wang
Most recently, Kevin Wang enjoyed the opportunity to participate in and advance groundbreaking translational research in the lab of Dr. William Peranteau in CHOP's Division of General, Thoracic and Fetal Surgery where his research focused on gene therapies for congenital metabolic diseases. As a follow on to this, he was able to use his LSM education to then contribute to the design of clinical trials and explore business opportunities with potential investors. Throughout his three previous years at Penn, Kevin worked with Dr. Megan Suhoski Davis, Product Development Laboratory Director with Penn's Center for Cellular Immunotherapies, with the goal of enhancing the implementation of innovative CAR-T therapies. His work included leading the development of machine learning models to predict CAR-T cell manufacturing outcomes, and designing and executing a process development study to automate the in-line assessment of CAR-T cell viability and durability.
Kevin's science internship was centered in computational biology; he helped design AI models to predict clinical trial outcomes (specifically, liver toxicity) at the biotech startup OneThree Biotech, a spin out from Dr. Olivier Elemento's research at Weill Cornell Medicine. His business internship was with the consulting firm Putnam Associates, where his work was related to his research in that he worked with a biopharmaceutical client in the commercialization of a recently approved cell therapy. During the school year, aside from his research, Kevin focused on service. He contributed to the launch of a mentorship program organized by Comcast, concerned with helping prepare first-generation, low-income high school students with college applications and their adjustments to college life. He also served as President of the Penn Social Entrepreneurship movement, developing and providing pro bono consulting for a variety of social enterprises, businesses and non-profits with the objective of improving socioeconomic, environmental, and healthcare conditions – work that is particularly meaningful to him as an aspiring future physician conscious of the socioeconomic determinants of health.
 
Vagelos Prize for Achievement in Scientific Research: Jack You
Jack You joined LSM with significant experience of laboratory research and voluntary work at the Veterans Affairs Medical Center in his home city Pittsburgh, and he hit the ground running in continuing both of those passions here at Penn. At the Pittsburgh VA he had become a leader, planning the reorientation of many hundreds of volunteers; here in Philadelphia, while he still maintained contact with patients, he worked primarily on the physicians' side, in the Release of Information Division, working with the Assistant Chief on determining from feedback forms the response to new medical coding procedures. In research, Jack found a home in the lab of Dr. George Cotsarelis, the Milton Bixler Hartzell Professor of Dermatology, where the focus is on epithelial stem cell biology. Jack, who began in the lab in the summer after his first year, where he stayed for his two independent studies projects and then for another year after graduation, focused on de novo hair follicle growth. It is from this important work that he already has a slew of presentations and publications to his name and will now be able to continue his uncompromising commitment to fundamental research and patient care as an MD-PhD student at Penn's Perelman School of Medicine.
Despite his VA commitments and his research (which also included a policy internship related to childhood asthma with Dr. Chen Kenyon at CHOP, which subsequently led to work on a clinical research study), Jack managed to make time to serve the community at Penn and beyond in many other ways. In Wharton, he put his leadership skills to use as Community Director for the Wharton Cohort program, as well as serving not only as a Teaching Assistant for the WH 201 Management Communication course, but also as Chair of the course's Undergraduate Leadership Board while serving as Vice President and Project Sourcing Manager for the Wharton Undergraduate Healthcare Club. Beyond Penn, Jack continued in Philadelphia another commitment he had made in Pittsburgh by volunteering with Best Buddies International, serving as Vice President of Penn's chapter.
Vagelos Prize for Graduating Senior Planning Graduate Study: Matt Chow
From the outset and throughout his time at Penn, Matt Chow has been fascinated by immunology, and although he is open to other possibilities, graduate study in this area is currently a priority for him. Following graduation from LSM, however, his first job has been here in Philadelphia with ZS Associates, the management consulting firm where he did his business internship, with a focus on health care companies. His long-term goal at this point is ultimately to get involved in a biotech startup company, where he will have the opportunity to put his skills and knowledge in science and business to good effect.
Matt enjoyed research throughout his final two years in the Abramson Research Center at the Children's Hospital of Philadelphia in the lab of Laurence Eisenlohr, VMD, Ph.D., where the focus is on the fundamentals of host defense against viral infections. For his independent studies there, Matt worked to develop antibodies for use in immunoassays and to screen novel immune system pathways, work with potential implications for vaccine design, a better understanding of autoimmune diseases, and cancer immunotherapy. For his scientific research internship, Matt spent a summer in R&D at Kite Pharmaceuticals, a Gilead company, where he contributed to the optimization of their breakthrough CAR-T cancer immunotherapy platform and investigated and evaluated other cell therapy candidates. Beyond his focus on science and business, Matt's primary commitment at Penn was to the University Honor Council, where he served as Research Chair and then Recruitment Chair, and had the opportunity to work closely with the Office of Student Conduct to help refine  and improve policy regarding student academic integrity.
 
Vagelos Prize for Graduating Senior Planning Graduate Study: Matt Andersen
Matt Andersen, a first-rate LSM student, demonstrated his ability to work effectively as part of a team both in research and in business pursuits, as well as a key member of the Pan Asian Dance Troupe, to which he brought his usual energy and commitment, even when circumstances necessitated that he do so virtually.
The summer after his first year, because of his unusual maturity and previous commitment to service, Matt was selected for an internship, via Penn's Center for Advanced Study of India, at the Aravind Eye Hospital in Tamil Nadu. There he worked with the business and consulting branch to increase the utility of their e-resource databank and improve access to their training resources and patient call center. The summer after his sophomore year, Matt was again selected through a competitive process for a research program through the Clinical and Translational Science Award with which he remained throughout the academic year to analyze data produced at the Minn cancer immunology lab, with a special focus on immune checkpoint blockade therapy, studying resistance to predict responders and to clarify future research on response pathways. 
The summer after his junior year, Matt did his business internship at Boston Consulting Group, with whom he remained after graduation, although he aims to eventually go on to medical school. At Penn, Matt showed his flair for business and policy solutions not only through his LSM courses, but also through his membership of teams that placed second in the Huron Case Competition, and as finalists in the Wharton Public Policy Initiative Case Competition, in which he and his team presented an idea for how the opioid crisis might be mitigated. He also used his communication skills to serve fellow students as a Teaching Assistant for the Mathematical Foundation of Computer Science course, and to serve the student scientific community in volunteering as a designer and author for the Penn undergraduate journal Synapse.
Vagelos Prize for Achievement in Scientific Research: Analiese Fernandes
Analiese worked toward her senior thesis for her concentration in Neurobiology in the laboratory of Dr. Hongjun Song, where the focus is on neural stem cell regulation in the mammalian brain, and on epigenetic and epitranscriptomic mechanisms and their function in the mammalian nervous system.  In the words of a fellow member of Dr. Song's group: "Analiese possesses many of the traits of an outstanding scientist; she is exceptionally curious, driven, analytical and creative in the way she approaches her work." Her independent project included developing a protocol for cross-species comparisons of gene expression at the single-cell level, as well as the development of software to assemble and analyze transcriptomic data from more than 20,000 cells. Analiese's particular passion for neurology is reflected in her choice of business internship: she worked at Denali Therapeutics, a company focused on therapies for neurodegenerative diseases, as an Investor Relations Intern in their Finance Department. For her LSM scientific research internship, Analiese worked on a different kind of disease at the Boston Medical Center's Amyloidosis Center. And here at Penn, Analiese brought her leadership and communication skills to bear as Vice Chair for External Affairs with the Penn Undergraduate Health Council, and as a writer for IMPACT Magazine whose goal is to inspire community involvement in social issues. Analiese plans to do research full-time following graduation before entering a PhD program.
Vagelos Prize for Achievement in Scientific Research: Alexandra Siwulec
Alexandra was one of nine undergraduates named as a Dean's Scholar in Arts and Sciences for her exceptional academic performance and intellectual promise. Alexandra's research experiences have been as varied as they have been impressive, although with a particular emphasis on a central passion of hers, the biological basis of behavior. Alexandra interned at the Max Planck Florida Institute for Neuroscience, working on a project aimed at elucidating the functional consequences of deletion of ERBB4 (an EGFR subfamily receptor tyrosine kinase) and its implications for schizophrenia. She also interned at the Integrated Medicine Alliance in New Jersey managing a study that explored the connection between lifestyle interventions of various kinds, and cognitive decline and risk for Alzheimer's disease. For her independent study, Alexandra worked with Dr. Alan Stocker in designing, executing and interpreting a study on choice and cognitive dissonance. But that is not all. Throughout her final three years at Penn, Alexandra worked with Dr. Jennifer Prah Ruger, the Amartya Sen Professor of Health Equity, Economics, and Policy, on a variety of public health and domestic and global health policy projects and took on many responsibilities including the reviewing and editing of manuscripts. Alexandra's commitment to healthcare issues has not been purely academic; she has served as the Vice President of Outreach for Penn Cares for Kids (volunteering at HMS School for Children with Cerebral Palsy), has coordinated an internship in rural Peru with the Global Development Collaborative, and has continued to run the Global Woman Empowerment Club she founded while still in high school. True to form, she has put her business skills to work as Healthcare Sector Leader for Smart Women Securities, and during her business internship with Adage Capital Management. Following graduation, the first full-time beneficiary of Alexandra's analytical skills will be Bain Capital, where she will work as a Private Equity Analyst.
Vagelos Prize for Graduating Senior Planning Graduate Study: Sam Yoon
Following graduation, Sam will be working in an immunology laboratory nearby at CHOP, with the intention of applying to medical school. For him this is the logical continuation of his passion for exploring how research and technology can help meet the needs of patients with serious diseases that are as yet not satisfactorily treated. Sam has already pursued computational biological research through a Clinical and Translational Science Award at the Penn Cardiovascular Institute, as well as at the Vagelos Laboratories here on campus working on the effects of hemodynamics on cell phenotype (which resulted in his being named on a publication). His business internship for LSM was at ClearView Healthcare Partners, where he worked to assess the commercial viability of novel technologies and therapies. Sam put his organizational and business skills to good effect on campus with the Penn Health-Tech Student Advisory Board and the Wharton Digital Health Club, as well as the Penn Kidney Disease Screening and Awareness Program, and in his last semester was a Venture Initiation Program Fellow, helping to develop a health nutrition app for patients whose diseases require dietary modification. Sam has also helped patients directly by volunteering at the VA Medical Center. That said, he's not all work: he's been an extremely active member and organizer of Penn's Breakdance Club throughout his four years here.
Vagelos Prize for Graduating Senior Planning Graduate Study: Jennie Daisak
Jennie plans to attend medical school at Mt. Sinai in two years' time, but before then she will put her business skills and knowledge to work as an analyst in the J.P. Morgan healthcare group, where she interned last summer. She has exemplified the productive combination of science and business pursuits throughout her time at Penn – and shown a great deal of initiative and energy. Her scientific research internship for LSM was completed not far away at Bristol-Myers Squibb, where she identified new small molecule targets for combination immune-oncology treatments, and presented her findings to leaders in the company. While she was there, she also took the trouble to meet a variety of company leaders and learn more about the business model at the company. And at Penn she has both served as a clinical research assistant in the CHOP Division of Oncology, and also as an investor and Director of Consulting respectively with the Wharton Investment and Trading group and the Penn Undergraduate Biotech Society.
Vagelos Prize for Achievement in Scientific Research: Shelby Wilkinson
Shelby, who majored in Biology with a concentration in Molecular and Cell Biology, won the Edna R. Green Award in Biology, as well as the William B. Gordon Award from the Wharton school for academic excellence. Her research, which she conducted under the immediate supervision of Dr. Kunrong Mei, in the laboratory of Professor Wei Guo, was concerned with the molecular basis of exocytosis and its relevance to cell migration and tumor invasion. This entailed detailed molecular manipulations of bacteria and yeast to gain clarity on the molecular basis of exocytosis, or, as she explains it, the mechanisms underlying the movement of cellular cargoes from the inside to the outside of the cell. In particular, she demonstrated the key role played by the Sec3 CorEx motif in recruiting all of the components of the exocyst complex to the site for exocytosis. To achieve this, she used gene recombination and transformation techniques to develop an in vivo model for fluorescence-based studies and employed a pull-down assay to explore the interactions between exocyst subunits and vesicle proteins. As Dr. Guo notes: "Shelby is devoted to her project, and is able to grasp the essence of the problem. She also quickly mastered both the cell biology and biochemistry techniques, and [how to] apply them to her experiments. Her work contributed to the understanding of how the post-Golgi secretory vesicles are targeted to the plasma membrane."
Shelby had previously done research, for one of her LSM internships, at Vertex Pharmaceuticals, working on drug candidates for cystic fibrosis. Beyond that experience and her LSM courses, she has gone to great pains to learn as much as possible about the implementation of science, through work with Wharton's Mack Institute for Innovation Management (developing a roadmap for innovation pathways in universities across the United States), and as a Licensing Intern with the Office of Technology Transfer at the Children's Hospital of Philadelphia. Using lessons learned from her LSM Capstone work, she was also part of a small team, NanoXCell, that built a clinical development and commercial plan for a gene therapy innovation that reached the final stages of competitions while at the same time serving as Consulting Director for the Penn Undergraduate Biotech Society. Shelby's passion is for finding ways to make feasible the development and commercialization of therapies for rare diseases. In the fall she plans to work in Singapore for Tessa Therapeutics, a company focused on the development and commercialization of cancer immunotherapies.
Vagelos Prize for Graduating Senior Planning Graduate Study: Gina Liu
Gina has demonstrated a formidable combination of skills in communication and in quantitative analysis, as well as in leadership, teamwork, and even boxing. In the College, she majored in Biology with a concentration in Computational Biology, and in Wharton her concentration was in Statistics. The analytical skills that she brought to her research, which, as a reflection of her interest in and commitment to health care and in health policy, was primarily in the medical school's Department of Biostatistics, Epidemiology, and Informatics, with Professor Douglas Wiebe. There she worked on a variety of projects, including concussion recovery and mesothelioma, but the project that captivated her imagination the most was concerned with violence prevention, especially the relationship between gun ownership and gun violence. Her timely (is it ever not timely?) work on the effects of mass shootings on gun purchasing behavior led to her winning both the Brooks Web Student Paper Award from the Society for Advancement of Violence and Injury Research, and Penn's own Emerging Scholar Talk competition. Gina plans eventually to go to medical school, and she has gained meaningful experience with patients at the Penn Wissahickon Hospice. She has shown her ability to recruit people to a cause by increasing the membership and diversifying the organization as President of Penn Boxing. Gina's teaching and leadership skills were both on display in her capacity of Head Teaching Assistant for the CIS 105 course (Computational Data Exploration). Next for her is a Master's in Evidence-Based Social Intervention and Policy Evaluation at the University of Oxford in the UK which she will do on a Thouron Fellowship.
Vagelos Prize for Graduating Senior Planning Graduate Study: Abhishek Rao
Abhishek, who plans to attend Columbia University's Vagelos College of Physicians and Surgeons this fall, will enter medical school having explored health care from an impressively diverse array of perspectives. He already has served patients directly as an Active Lead EMT (and Disaster Response Team Officer) with the Medical Emergency Response Team at Penn. His scientific expertise he has obtained not only through a major in Biology with a concentration in Molecular and Cell Biology, but also through a research internship focused on tissue engineering therapy for head and neck cancer patients with the Center for Translational Research at the Helen F. Graham Cancer Research Center near home in Delaware. In addition, Abhishek has conducted research in other health-related areas: both in clinical research on a variety of cancer-related projects at the Helen F. Graham Center, and in health policy, through PolicyLab at the Children's Hospital of Philadelphia, with Dr. Chen Kenyon, working on a population health study and a medication adherence incentive study centered on childhood asthma. That however is not to say that everything Abhishek has done has been directly related to medicine. He served throughout his time at Penn with the University Honor Council, ultimately as its Chairman, and has also served his peers through the Biology Student Advisory Committee, and children in the local community through his volunteer tutoring with the Penn Health Initiative. True to form, Abhishek has also broadened his horizons (and showed his fun-loving side – he has a great sense of humor, and a light touch) by participating in Latin and ballroom dance at Penn.
Vagelos Prize for Achievement in Scientific Research: Sophie Phillips
Sophie Phillip's major is in Biology with a concentration in Neurobiology, and she chose to do her research toward her senior thesis in the laboratory of Professor Nicholas Betley of the Department of Biology, who focuses on the investigation of the neural circuits that underlie behavioral responses to physiological needs. Dr. Betley writes: "Sophie has been incredibly dedicated and has made significant contributions to a study aimed at understanding how the brain processes competing signals of need to make adaptive behavioral decisions. Specifically, Sophie has shown that hunger, and neurons in the brain that are active during hunger, are sufficient to suppress the behavioral response to inflammatory pain that occurs after an injury. These findings have significant consequence in the quest for treating pain and finding non-opioid alternatives, as the neural circuits that normally filter and process non-adaptive aspects of pain (such as long term sensitization to pain after injury) can be specifically targeted."
Before joining Dr. Betley's laboratory, Sophie had already learned about drug research and development in other ways. In the summer after her freshman year she interned with Oncoceutics, a biotech company focusing its efforts on novel cancer therapies, where she worked on the financial side of operations and the formulation of a clinical development plan for a cancer drug soon to enter clinical trials. The next summer, she conducted clinical research and data analysis at New York University's Langone Medical Center in the Pediatric Neurosurgery division. In her final summer, Deutsche Bank were fortunate enough to be able to use Sophie's talents and expertise in analyzing pharmaceutical, medical device, and biotechnology companies.  Sophie will be returning to Deutsche Bank's healthcare desk full-time following graduation. As a backdrop to these many activities, Sophie has demonstrated her leadership skills as a two-term President of the Phi Gamma Nu business fraternity, and as a peer mentor with the Pan-Asian American Community House.
Vagelos Prize for a Graduating Senior Planning Graduate Study: Milan Savani
Milan Savani has made his mark at Penn through his leadership and commitment to research and service. He has done research at the Children's Hospital of Philadelphia throughout his time at Penn—building on three summers of research he did before that at the UT Southwestern Medical Center, Dallas. At CHOP, Milan's work, in Dr. Matthew Weitzman's laboratory in the Center for Childhood Cancer Research, focused on host cell responses to viral infections in the course of which he learned and applied a broad range of cell and molecular biological techniques including site-directed mutagenesis, qPCR and CRISPR/Cas9 gene editing. This work was in part supported by a grant Milan was awarded from Alex's Lemonade Stand.
Substantial as his basic research has been, Milan has also been a transformative student leader whose positive influence has shaped not only the students in the LSM program but the very fabric of the program itself. Even before becoming a highly effective founding President of the LSM Student Advisory Board, Milan played a crucial role in a number of developments, including planning the annual LSM Retreat and establishing and overseeing enhanced peer-to-peer mentoring. Milan has shown similar dedication to many activities outside the program, in particular as show manager for the venerable Mask and Wig Club at Penn and President of the Penn Undergraduate Biotech Society.  In the former capacity he managed shows on a large scale including organizing national tours, where again he introduced many new ideas and materials.  In the latter capacity, he organized numerous events to enhance student exposure to innovations in the industry.
On top of all this and a very heavy courseload, Milan has served many hours as a volunteer at the Hospital of the University of Pennsylvania.  There therefore can be little doubt that he will bring his service ethic and proven record of providing effective support, along with his passion and obvious aptitude for research, to his MD-PhD studies after graduation—following a year of consulting with Bain & Company.
Vagelos Prize for Achievement in Scientific Research: Kartik Bhamidipati 
Kartik Bhamidipati's share of this award was for his work in the laboratory of Dr. Vladimir Muzykantov, under the supervision also of Dr. Jake Brenner. The work focused on ARDS (Acute Respiratory Distress Syndrome) where Kartik was instrumental in creating a new mouse model of ARDS much of which he accomplished single-handedly. Dr. Muzykantov writes: "Kartik has used this training to become a very independent researcher. He has virtually by himself accomplished the following: he created a protocol to conjugate polymeric nanoparticles to antibodies, and that protocol has been used to generate date for more than one paper and used by multiple lab members; and he has created assays of lung inflammation using ELISAs, in vitro luciferase reporters, and dye leak in the lung; and he developed the use of FACs in our lab for tracking which cell types in the lung take up the drug nanocarriers we design here. Very few undergrads could accomplish so much." Kartik has, so far, made three poster presentations and expects to get second authorship on at least two papers. In fall 2016 he will join a PhD program in Immunology at Stanford University.
Vagelos Prize for Achievement in Scientific Research: Amy Liu
Amy Liu received her share of this award for the extraordinary work she has done with Dr. David Fajgenbaum, of Penn's Division of Translational Medicine and Human Genetics, and Co-Founder and Executive Director of the Castleman Disease Collaborative Network. Remarkably, for an undergraduate, Amy has had published, as first author, a systematic literature review of idiopathic multicentric Castleman's disease in The Lancet Haematology. The review, as the article states, "provides comprehensive information about clinical features, treatment, and outcomes of idiopathic multicentric Castleman's disease, which accounts for at least 33% of all cases of multicentric Castleman's disease. Our findings will assist with prompt recognition, diagnostic criteria development, and effective management of the disease." In the coming year, Amy will continue to work with Dr. Fajgenbaum as Senior Data Research Specialist, before applying to MD/PhD programs.
Vagelos Prize for a Graduating Senior Planning Graduate Study: Osama Ahmed 
Osama Ahmed, who will start at Yale School of Medicine this fall, has proven to be an insatiably inquisitive student and researcher, and a highly capable leader. Osama's academic work has centered on ophthalmology, for which his ambitious choice of a Biophysics major makes him a natural fit. He has conducted fruitful research both at Scheie Eye Institute and at Wills Eye Hospital that has resulted in presentations to national and international conferences and several peer-reviewed publications, including one in the Journal of Glaucoma. As if that is not enough, he has also conducted research for the Penn Medicine Data Science Team, and Dr. Walter Englander's Biophysics lab, while at the same time conducting research in health care management.  As another consummate communicator, Osama has also found time, despite a formidable curriculum including minors in Chemistry and Mathematics, to share his passion for research and learning with others through his role as Editor-in-Chief of the undergraduate health care journal Synapse, as Director of Marketing and Public Relations for the TEDxPenn conference, and as a member of the Undergraduate Advisory Board for Penn's Center for Undergraduate Research and Fellowships.
Vagelos Prize for a Graduating Senior Planning Graduate Study: Diana Bongiorno
Diana Bongiorno starts at Johns Hopkins University School of Medicine this fall. She's another tremendously talented and inquisitive student and researcher who has explored a number of fascinating research areas. In her degree in the College of Arts & Sciences, she concentrated in Neurobiology, and pursued research (leading to publications) in that area, specifically investigating the neural circuits and signaling pathways involved in the control of food intake and energy expenditure in animal models. At the same time, she has been pursuing her interest in the social dynamics of health care through work at the Center for Outcomes Research at Children's Hospital of Philadelphia. There she has contributed to a project examining the influence of race and socioeconomic status on disparities in cancer survival, with an eye to gathering information that might help guide policy. She previously worked at the National Institute of Mental Health, and also here at Penn in the Commercialization Acceleration Program through the Wharton Small Business Development Center. In preparing for a medical career, Diana has also shadowed physicians regularly for more than a year that the Rheumatology clinic at the Perelman Center for Advanced Medicine, and has also served as a clinical volunteer in the Division of Infectious Diseases at the Philadelphia VA Medical Center.
Roy and Diana Vagelos Prize for Achievement in Scientific Research: Srikar Reddy
Srikar receives this award for his independent study work over two semesters in the Biochemistry program, which he did in the lab of Professor David Manning of the Pharmacology graduate group at the Perelman School of Medicine (who generously provided an account of Srikar's research on which this summary is based). Srikar started by developing, along with post-doctoral fellow Xueshui Guo, a recombinant adenovirus capable of expressing a receptor that recognizes Hedgehog morphogens. Srikar then worked alone to evaluate the receptor by means of radioligand binding. This meant he had to introduce himself to pharmacological theories of receptor occupancy, and figure out the necessary protocols and equipment. Dr. Manning, who describes Srikar's work as "thoughtful and meticulous," adds: "What impresses me most about Srikar is how quickly he assimilates concepts and suggestions to, in turn, produce trustworthy results." Srikar has also proved himself a very able student, doing well in a rigorous curriculum including not only his major in Biochemistry, but also two concentrations in Wharton, in Finance and Accounting. Srikar, who found his scientific research internship in drug discovery at GlaxoSmithKline a real inspiration, is planning on applying to medical school.
Roy and Diana Vagelos Prize for a Graduating Senior Planning Graduate Study: Max Shen
Max has proved himself a student of extraordinary curiosity, more than happy to take on what to most would be a daunting curriculum of courses including some of the most advanced and challenging. He's majoring in Biology with a minor in Chemistry, and is taking on two concentrations in Wharton, in Finance and Statistics. He's done remarkably well in his classes, which include many advanced biology courses. In the fall he will finish up a couple of requirements for medical school, and also take on additional advanced biology. After that the immediate plan is to work in consulting for a time with PricewaterhouseCoopers, before going on to medical school. Max has not only shown prowess in the classroom: he's been researching most recently in the lab of Dr. Doris Wagner of the Department of Biology in the field of plant epigenetics, and will continue this summer. Previously, he did independent research with Professor Mecky Pohlschroeder, who works in the area of the biosynthesis and function of prokaryotic cell envelopes and their surface structures, and interned in Gene Expression at Vertex Pharmaceuticals. Max has also had contact with patients as a volunteer in both Honduras and here at HUP. He's held leadership positions in the Penn Student Federal Credit Union, and also served admirably as a Peer Advisor here in LSM. Highly intelligent but also competent and kind, he's proved he has the kind of qualities that would seem ideally suited to make him a great physician.
Roy and Diana Vagelos Prize for Achievement in Scientific Research: Kevin Hershey
Kevin receives the research award for his Senior Thesis project on the relationship between a high fat diet, the μ-opioid receptor, and impulsivity in the mouse model with reference to the action of the opioid receptor antagonist naloxone on the addictive behavior of animals on high fat diets. The overarching principle behind these investigations of naloxone is that eating high fat foods to the point of obesity is likely due to a faulty reward system, leading to addiction. The project will be incorporated into two original publications on which Kevin will be a coauthor with Dr. Teresa Reyes, Research Assistant Professor of Pharmacology at the Perelman School of Medicine. Dr. Reyes reported that Kevin researched and understood the theoretical basis of his work better than many graduate students; she also indicated that his unique skill set and interests, coming both from the Biological Basis of Behavior Program and the Wharton School, allowed him to understand the logistical implications of various experimental approaches. In other words, according to this report, Kevin demonstrated the qualities we hope for an LSM graduate to have- the facility to think critically as both a basic scientist and as a scientist involved in the implementation of research findings.
Roy and Diana Vagelos Prize for a Graduating Senior Planning Graduate Study: Aditi Gupta
Aditi graduates with an impeccable academic record and plans to attend the Weill Cornell School of Medicine at the beginning of the next academic year. Her research accomplishments range from working as a research assistant in the Institute for Advanced Study of India on a project concerned with public policy in India, to serving as a research assistant in Dr. Xiaolu Yang's group in the Abramson Family Cancer Research Institute working on the role played by ubiquitination in cancer progression, to her work as an independent study student in the laboratory of Dr. Doris Stoffers in the Institute of Diabetes, Obesity and Metabolism at the Perelman School of Medicine working on the protein chemical characterization of Clec16A, a protein implicated in susceptibility to type 1 diabetes. Moreover, Aditi served on the Executive Board of GlobeMed, University of Pennsylvania, where she was involved in a collaboration with a non-profit agency in Kenya and managed a committee concerned with raising global health awareness across campus. She served on the Student Committee for Undergraduate Education, and as a student mentor for the LSM program. Her academic record, rich and varied research experience, and history of service and leadership make her an outstanding representative of LSM and a promising future leader in medicine.
Roy and Diana Vagelos Prize for Achievement in Scientific Research: Anand Gopal
Although he has already a long, varied and impressive history of research, Anand is being recognized especially for the exceptional work he did toward his independent study project. He worked with Professor Joshua Plotkin of the Biology Department, and especially with Dr. Joel Maslow, a Professor of Medicine in Infectious Diseases. Both supervisors were extremely impressed with Anand's talent and dedication as a researcher. He worked laboriously with a great deal of data, and ended up offering interesting and important insights. Anand's study became the nucleus of a paper which was published earlier this year in the peer-reviewed journal Tuberculosis Research and Treatment. It consisted of an exploration of the long-held belief among physicians that there is a direct relationship between age and increased toxicity among patients treated for latent tuberculosis. Anand sifted through very complex, sometimes incomplete and inconsistent data from the medical records of over 250 patients. He managed to identify key issues, address and understand the limitations of his data, and summarize the information he gleaned as part of a cogent and interesting narrative.
Roy and Diana Vagelos Prize for a Graduating Senior Planning Graduate Study: Elena Madan
Elena has planned to go to medical school for quite some time now, and indeed she has exemplified the best traditions of the LSM program by leading the pre-medical students at Penn through her two-and-a-half years of service as the President of the Penn Pre-Medical Association. She also not only attended to patient needs as a volunteer at the Hospital of the University of Pennsylvania; she left behind a lasting improvement to that program through conceiving of and founding a volunteer mentoring program. Moreover, she's put her ability to remain calm and poised in the face of pressure to good use as a first responder with Penn's Medical Emergency Response Team. Elena has engaged with the science of medicine not only through her coursework as a Molecular Biology student, but also through her research in Immunology at Penn's School of Medicine, and on melanoma at the Wistar Institute at Penn. She also designed a clinical study for a drug during her internship with Genzyme, a Sanofi company. Her communication skills, and her range of knowledge and talents, are reflected in part by the work she has done as a Critical Writing Tutor and Advisor to the Critical Writing Program, and also as a Consultant with Penn's Commercialization Acceleration Program. She surely has the potential not only to become a fine physician, but a leader in medicine.